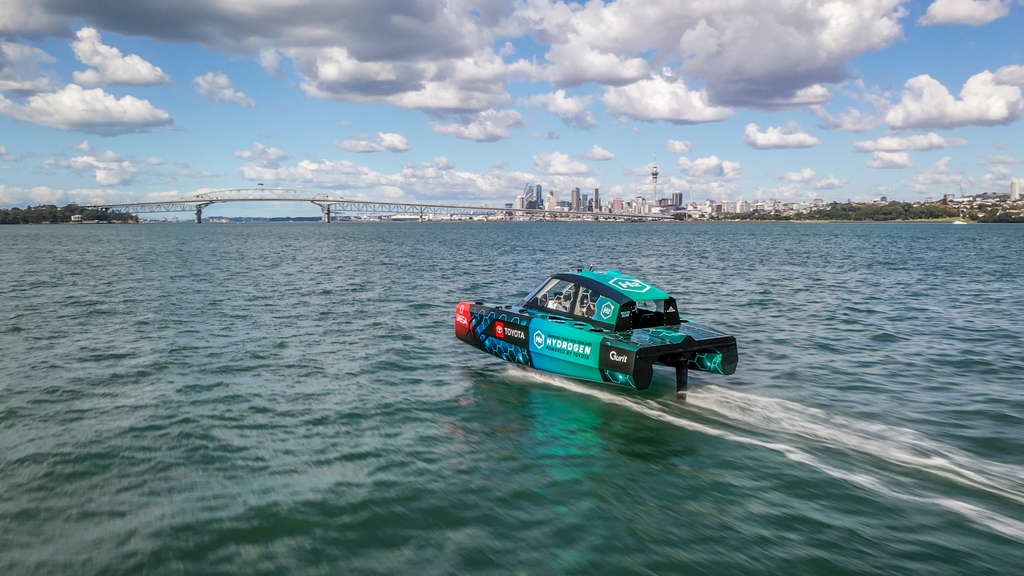 Photo: americascup.com
Emirates Team New Zealand's hydrogen powered foiling catamaran Chase Zero
2022-04-11
Automatisch vertalen:
The defender of Americas Cup, which will take place in Barcelona during autumn 2024 precent there chase boat they will use under this event.
Chase Zero is powered by hydrogen fuel cells, together with batteries. The batteries is needed for acceleration and to reach high speeds up to 50 knots.
Chase Zero is capable of running in around 30 knots with power only from the fuel cells.
Range is about 180km in 35 knots.
The boat is of course flying on foiles.

Specifications
LOA: 10.0m
Beam: 4. 5m
Draft: 2.2m
Foil configuration: Primary π-foil, single T-rudder
Displacement: 4800kg
Fuel cells: 2 x Toyota 80kW
Motors: 2 x 220kW
Batteries: 2 x 42kWh
Tanks: 4 x 8kg Hydrogen @ 350bar
Cruise Speed: 30kts
Range: 180km (typical chase boat working cycle)
Top Speed: 50kts